A young Leicestershire farmer has been given the Royal seal of approval, after winning a prestigious competition with his prized heifer.
William, Prince of Wales, presented 17-year-old Simmental breeder Finlay Soutter with his trophy as winner of the Royal Norfolk Show's Young Handler competition.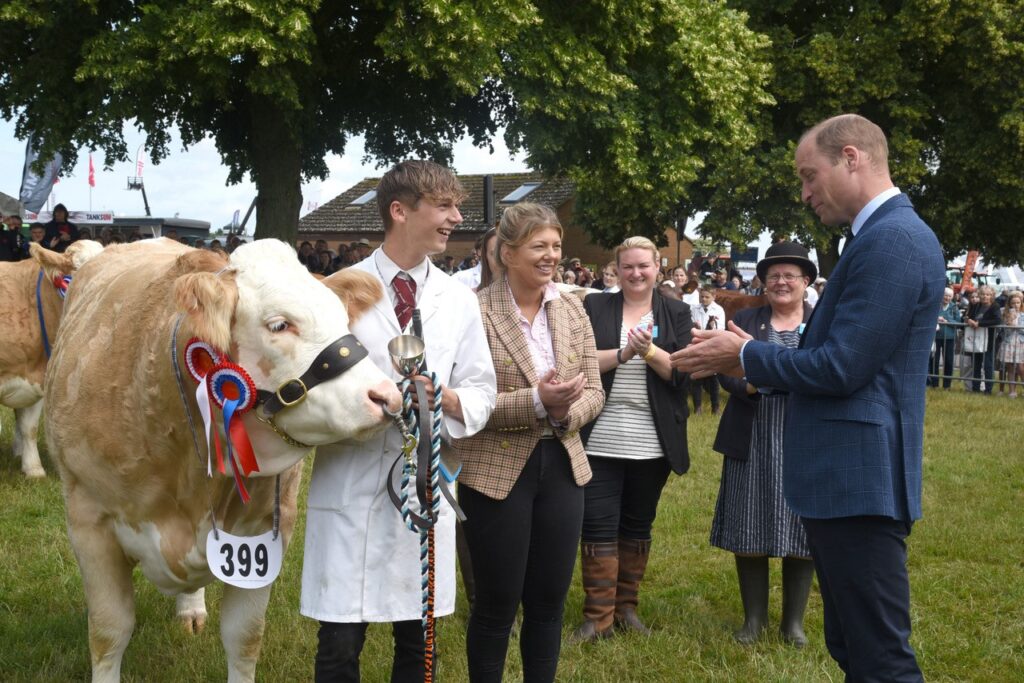 Picture: Adrian Legge
He won the competition with his classy heifer Brandane Millie, who is the foundation female in his newly established Millennium Simmental pedigree herd. The animal was bred by well-known breeder and stockman Jimmy McMillan, Bradwell Ash, Bury St Edmunds.
Against a huge entry of Young Handlers across all breeds in the show, Finlay, from Ashby, was required to parade Millie around the ring then walk her up to the judge where he was asked various questions on how she had been prepared for the class, what feeding she was on, and general questions about Millie herself just to test general knowledge. Thereafter he was placed into the lineup and was further judged on how Millie was stood and presented, and Finlay's ability to settle her.
Of winning the competition and having Prince William present the trophy to him, Finlay said: "First of all it's a great honour to have won the Champion Young Handler award. I have won young handlers' Championships before but never at a Royal Show. To do that and have the trophy presented by Prince William is just really special and a memory I'll never forget.
"Prince William was so easy to talk to. He asked me how old Brandane Millie was and also about the Simmental breed. He also asked if I had shown at the Royal Norfolk Show before and why Brandane Millie was so special," Finlay continued.
He went on to share some details about her background.
"Millie was purchased privately by my grandad (Doug Mash, Chesham, Bucks) and was gifted to me as a birthday present. It was a great boost to start my own herd of pedigree cattle with such a great heifer. I greatly admire Millie as she has style, shape and muscle, with femininity to complement, and has incredible blood lines. This year I plan on showing her at the Great Yorkshire, and the Royal Welsh as they are two shows I've never exhibited at."